Garage Door Opener Repair
Serving The Entire Milwaukee & Madison Metro Areas
1(888)292-7811
COVID-19 - We're Open
We Are An Essential Business. Click Here To Learn How We Are Keeping Our Customers & Employees Safe.





WITH 3,012 REVIEWS
Click
to view local phone numbers
(414) 455-0234
(414) 455-0234
---
Milwaukee County





Carrollville

Granville

Oakwood

River Hills

Saint Martins

Shorewood

West Granville

West Milwaukee
(608) 229-1504
(608) 229-1504
---
Madison / Dane County





Albion

Arlington

Ashton

Ashton Corners

Basco

Black Earth

Brooklyn

Burke

Daleyville

Deansville

Door Creek

East Bristol

Elvers

Five Points

Forward

Hanerville

Hillside

Hope

Kegonsa

Klevenville

Lake Windsor

Lakeview

Little Norway

London

Maple Bluff

Martinsville

Marxville

Middleton Junction

Mount Vernon

New Glarus

Nora

North Bristol

Norway Grove

Oak Hall

Paoli

Pheasant Branch

Pierceville

Pine Bluff

Rockdale

Roxbury

Rutland

Seminary Springs

Shorewood Hills

Springfield Corners

Stone

Utica

Vilas

York Center
(262) 649-5706
(262) 649-5706
---
East Waukesha County





(262) 912-6940
(262) 912-6940
---
West Waukesha County





Chenequa

Genesee

Lac La Belle

Merton

Okauchee

Ottawa

Summit Corners
(262) 384-4871
(262) 384-4871
---
Washington County





Ackerville

Addison

Aurora

Barton

Boltonville

Cedar Creek

Cedar Lake

Cheeseville

Dheinsville

Diefenbach Corners

Fillmore

Goldenthal

Keowns

Kirchhayn

Kohlsville

Mayfield

Meeker

Myra

Nenno

Newburg

Orchard Grove

Pike Lake

Plat

Rockfield

Rugby Junction

Saint Anthony

Saint Lawrence

Saint Michaels

Thompson

Victory Center

Wayne

Willow Creek

Young America
(262) 671-0353
(262) 671-0353
---
Kenosha County





Bassett

Benet Lake

Brighton

Camp Lake

Chicago

Fox River

Lake Shangrila

Liberty Corners

New Munster

Paddock Lake

Paris

Pikeville

Powers Lake

Salem Oaks

Slades Corners

Somers

South Kenosha

State Line

Tobin

Truesdell

Wheatland

Wilmot

Woodworth
(262) 671-0353
(262) 671-0353
---
Racine County





Beaumont

Bohners Lake

Browns Lake

Buena Park

Caldwell

Caledonia

Crestview

Eagle Lake

Eagle Lake Manor

Elmwood Park

Honey Lake

Husher

Ives

Ives Grove

Kansasville

Kilbournville

Kneeland

North Bay

North Cape

Raymond

Rochester

Rosewood

Sylvania

Tabor

Thompsonville

Tichigan

Union Church

Wind Lake

Wind Point

Yorkville
(262) 384-4871
(262) 384-4871
---
Ozaukee County





Decker

Decker Corner

Druecker

Freistadt

Hamilton

Holy Cross

Horns Corners

Knellsville

Lake Church

Lakefield

Ulao

Waubeka
(920) 541-4698
(920) 541-4698
---
Jefferson County





Hebron

Helenville

Lake Koshkonong

Lake Ripley

Rome

Sullivan
(262) 671-0353
(262) 671-0353
---
Walworth County





Adams

Allens Grove

Bardwell

Bowers

Como

Delavan Lake

East Delavan

Fairfield

Heart Prairie

Hilburn

Honey Creek

Inlet

La Grange

Lake Beulah

Lake Lawn

Lauderdale

Linton

Little Prairie

Lyons

Millard

Milton

Pell Lake

Potter Lake

Richmond

Sharon

Spring Prairie

Springfield

Tibbets

Troy

Troy Center

Zenda
(608) 229-1504
(608) 229-1504
---
Rock County





Precision Garage Door Opener Repair of Wisconsin
Serving The Entire Milwaukee & Madison Metro Areas
Garage Door Opener Repair That Is Convenient For You!
Common Problems with Garage Door Openers
Here are some issues our technicians see:
Lightning/Power Surges
Sagging Chain/Belt
Intermittence
Noisy
Door Hums But Doesn't Move
Remote Not Working
Wall Button Not Working
Opener Blinks But Doesn't Move
Garage Door Opener Repair vs Replacement
Very often when your garage door opener is not functioning properly, it can be repaired. Diagnosing and repairing your existing motor may be a less expensive option than replacing the entire unit. We often recommend repair over replacement for this reason. We always maintain a full inventory of garage door opener parts on our trucks, so we can ordinarily repair it in a single visit.
Garage door openers, like most other technologies today, are changing rapidly to include features that make your life easier and more secure. You can count on your Precision Door Technician to expertly inform you about the newest garage door openers and accessories available!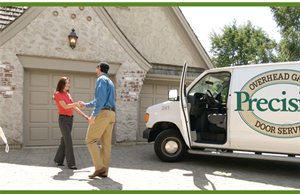 When We Recommend Replacement
Non-Compliant Openers
Federal Regulations (UL 325) were updated in 1993, which made garage door openers safer. If yours was manufactured prior to that date, it is unlikely your house would even pass an inspection with it. So, we recommend to replace in this situation.
Safety Concerns with a Brand
If a manufacturer has been successfully sued for safety defects, we will not repair that model.
No Safety Eyes
If the safety eyes are not present, the opener does not meet UL 325 compliance. Again, your house would be unlikely to pass an inspection if your garage door has no safety eyes.Therefore, we will typically recommend replacement.
Brand No Longer Exists
Parts for these types openers will be unavailable and replacing is usually the only option.
Why Do Garage Door Openers Fail?
Precision always performs a balance test on your door, as recommended by DASMA. The balance test is simple and you can do it yourself by watching the short video below. This test determines whether your door is out of balance or not. If the door is not balanced, it'll exert an inordinate amount of stress on the opener and strip the garage door opener gear (a new gear is pictured below).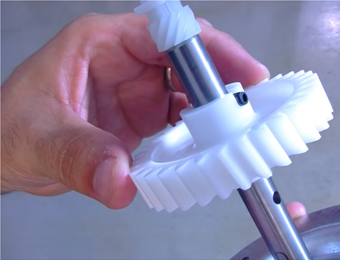 A common cause of an unbalanced garage door is having the wrong size spring(s) on the door. If the door is heavy, the opener sprocket (pictured), can be stripped. Precision will always let you know if this is a potential problem by doing a balance test. Do not hesitate to call us today at any of our locations to learn more about our openers. We will be happy to answer any further questions.
"Can Precision fix my opener in particular?" Here at Precision, our technicians are trained to repair ALL major brands, including LiftMaster, Chamberlain, Genie, Marantec, Sears, Overhead Door, Raynor, Stanley, Craftsman, and more! So give us a call today.